With help from our derby community we will be participating in this year's ACR Health Sled for Red fundraiser.  Donate $5, $10, $15, even $25 to help us reach our goal of $250 and come watch us shred down a snow covered hill in a skate made out of cardboard!
click HERE to donate to our team!!!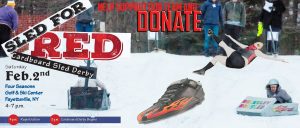 Here are the event details from ARC health's Facebook page.
When you compete in this cardboard sledding derby, you'll enjoy a thrilling event and help raise money and awareness for a great cause! Race down the slopes in your own sled made of only cardboard, tape, and paint. Join us after the derby for food, drinks and a chance to vote in the Battle of the Bars in the comfort of our heated tent – and don't miss the Bells Brewery Ice Bar!
Not a derby daredevil? Enjoy the fun with reduced priced snow tubing passes, and watch the derby from the heated tent while sampling food and drinks. There is something for everyone!
EVENT SCHEDULE:
Derby Registration: 4 pm — Pick up your Race Packet which includes 5 post-derby Tubing passes and 5 Food & Drink sample tickets.
Cardboard Sledding Derby: 5 pm — First heat kicks off.
Right after the derby you can enjoy tubing, hot chocolate, food and beer sampling!