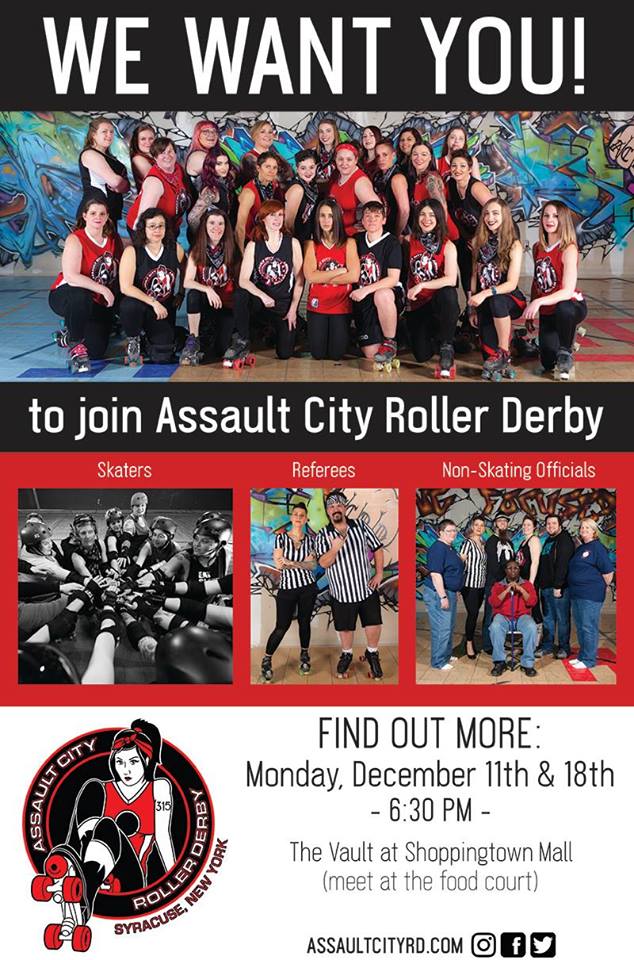 Have you dreamed about playing on a roller derby team? Does being a referee who zooms around on skates sound fun to you? Maybe you're just curious about derby and want to learn more?
Assault City Roller Derby will be holding recruitment open houses on Monday, December 11 and Monday, December 18 at 6:30 pm for potential skaters, referees, and officials. We'll meet you in the food court of Shoppingtown Mall, then walk you to our practice space to provide information about the league and give you a chance to talk with some of our members. Don't worry if you can't skate (yet)! We take people of all experience levels.
ACRD is the first and only roller derby league in the city of Syracuse. We are part of WFTDA, the Women's Flat Track Derby Association, and play competitively in bouts across New York State and beyond. Our motto is "Strong, Proud, Focused," which we seek to uphold both as a league and as a community.
If you're interested in attending an open house, please RSVP to either of the Facebook events, or contact us!